Share the wealth of herbal knowledge! Please click below to send this page to your friends!

| | |
| --- | --- |
| Medical Hair Restoration | |
| 5/5 | |



eMedicinal.com READER'S SPECIAL


Get a free, no strings attached or obligation scalp analysis and hair restoration information DVD. Limited supplies available!

Click Here To Get Your Free Scalp Analysis & Hair Restoration DVD!

Get started on getting your hair back today!

WHY NOT LOOK 10 YEARS YOUNGER WITH A LOOK THAT REFLECTS THE WAY YOU FEEL?

THE MHR DIFFERENCE:

1) State of the art techniques
2) Undetectable results
3) Diplomates, American Board of Hair Restoration Surgery
4) Guaranteed proven solutions

The MHR team has performed thousands of transplant procedures on clients including celebrity athletes, politicians, corporate executives, and everyday men and women who want to turn back the clock on their hair loss naturally and permanently. MHR also has more surgeons who are Diplomates of American Board of Hair Restoration Surgery than any other hair restoration practice. This distinction is granted only to physicians that have passed the rigorous examination process of the American Board of Hair Restoration Surgery (ABHRS). Our doctors are at the top of their game by pioneering the latest medical techniques to achieve results that are virtually undetectable. Start now by ordering a FREE DVD or booking a FREE Hair and Scalp Analysis.



Click Here To Get Your Free Scalp Analysis & Hair Restoration DVD!
About Medical Hair Restoration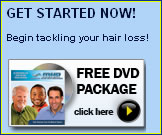 Medical Hair Restoration (MHR) was established in 1992 with the goal of providing artistic and technically sophisticated hair restoration and hair loss solutions to the growing number of people affected by hair loss. Dr. Matt Leavitt, a Board Certified dermatologist with vast training and experience in hair restoration, founded the practice and now almost two decades and tens of thousands of successful procedures later.

Dr. Leavitt established one of the industry's only accredited Fellowship programs to train other doctors in the practice of hair restoration. He wanted to hand pick doctors he felt were cut from the same cloth to train under the fellowship. He looked for specialists, usually dermatologists and plastic surgeons, with an innate artistic ability that could be further developed and improved upon. Today, this fellowship program is one of only a handful of formally recognized hair transplantation training fellowships in the world. The MHR program accepts only a few of the hundreds of physician applicants received each year because of the extensive, specialized training offered.

Today, MHR has over 60 consultation offices from coast to coast, with 22 hair restoration surgeons—making it the second largest hair transplantation practice in the country. A leader in total hair loss solutions, MHR has performed hair transplant procedures and provided REVVup Hair Therapy products for thousands of men and women from more than 40 countries.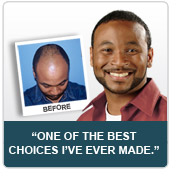 MHR will get you the results you want and the life you deserve. Our procedures provide you with a very natural look, maintaining virtually undetectable results and optimal density without compromising the donor area.

In six months our patients begin to notice their new hair growing. Normal growth rate is half an inch a month. How much hair is restored depends on the patient's degree of hair loss and their desired result. Some needs are met in one hair transplant procedure while the goals of others may be best achieved over multiple hair transplant surgeries.




Click Here To Get Your Free Scalp Analysis & Hair Restoration DVD!



Back to Top
---